About The Center Sandwich Fine Craft Gallery
Original Shop, built in 1935, houses the League of NH Craftsmen gallery to this day!
THE EARLY DAYS
A founding member of the League of New Hampshire Craftsmen, the Sandwich Home Industries (now called the Center Sandwich Fine Craft Gallery) has been supporting artisans and providing crafts education for over 90 years. It all began in 1926 when Mrs. J. Randolph Coolidge organized an exhibition of locally made rugs and brought an expert from Boston to give a talk on the practical aspects of making and marketing rugs. From this experience, it was decided to form a cooperative venture and a shop was opened in the summer of 1926 for the purpose of selling locally made handicrafts and thus supporting the local economy.
An early brochure for the Industries, as it was locally known, shows a wide variety of local crafts from basket making to woodworking and furniture, handwoven textiles and, of course, the hooked and braided rugs that started it all. First season's sales were over $1000, and also included income from their tea-room. The next year the Industries was offered a building rent-free that they could improve to suit their needs. The shop and tea room were located there on Main Street until the building was burned to the ground during the Great Fire of 1934, a fire that consumed most of Sandwich's business area. In 1935 a new building was built across the Green from the previous location, designed expressly for the Industries. This building, expanded and improved, continues as the home of the Center Sandwich Fine Craft Gallery today.
A Force in Founding the League of NH Craftsmen
Mrs. Coolidge combined forces with A. Cooper Ballantine, representing a group in Wolfeboro offering craft classes, to establish a committee seeking to promote the handicraft movement with a statewide plan for training craftsmen. In 1931, NH Governor John Winant supported their idea, establishing and funding the NH Commission of Arts and Crafts. The commission's first report to the governor focused on the values of hand-made work with an emphasis on the individuality of expression and enhancement of skills and design through organized education. As a result, the League of NH Craftsmen was formed in 1932 with Mary Coolidge as their President, a post she held for the next 10 years, and remaining as honorary president until her death in 1952.
Local craftspeople circa 1990s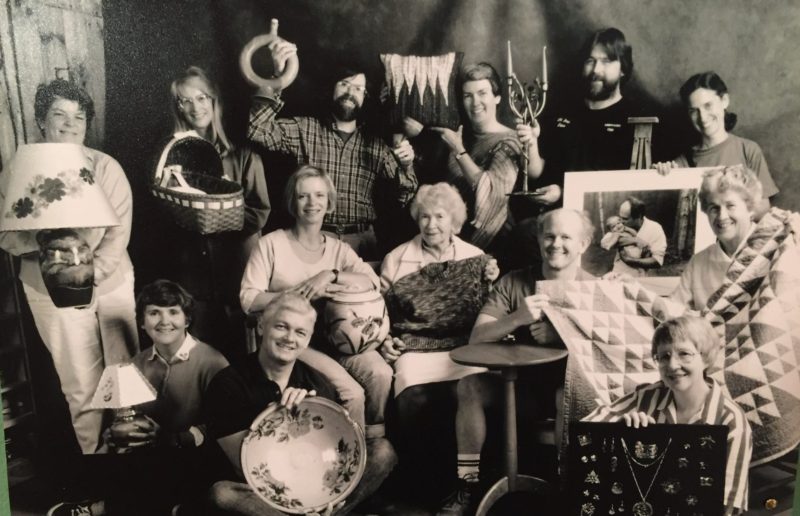 ---
VISIT US:
32 Main Street (On the Green)
PO Box 164
Center Sandwich, NH 03227
603-284-6831
sandwichcraftgallery@gmail.com
---
JOIN THE LEAGUE LEAGUE HEADQUARTERS


OUR MISSION: The mission of the League of NH Craftsmen is to encourage, nurture and promote the creation, use, and preservation of fine contemporary and traditional craft through the inspiration and education of artists and the broader community.
© League of NH Craftsmen. Website Design by Sullivan Creative.